New Owner Training Schedule
Launch Your New Business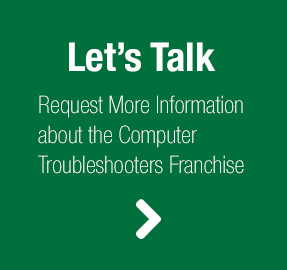 Most of our franchise owner candidates have a specific timeframe in mind for launching their new business.  We have found that many candidates find it helpful to know and understand the Computer Troubleshooters Training Schedule while planning the potential launch of their new business:
Our objective is to have your business launched within 2-4 weeks of completing your New Owner Training.
New Owner Training will last 2 days and take place in Galway with an optional 2 day workshop experience. Immediately following is an 8-week Coaching Program to continue the momentum of launching your new business.
Your signed Franchise Agreement and Initial Franchise Fee must be received a minimum of 14 days in advance of your training.  This is known as the CLOSING DATE for the training class.
The offer and acceptance of a Franchise must be made at least two weeks in advance of the Closing Date, to allow time to process your background check and prepare the necessary paperwork.  This is known as the COMMITMENT DATE.

 
For example, let's pretend you want to launch your business October 1.  You should then be in a training class no later than September 15; your Closing Date would be September 1, and your Commitment Date would be August 15.
Below you will find our upcoming New Owner Training Schedule.  The program is 2 days and provides a full schedule each day.  You should plan on arriving the night before and you may depart late afternoon. If you opt for the optional extra 2 days in the workshop, plan accordingly.