Training & Support
Training For Success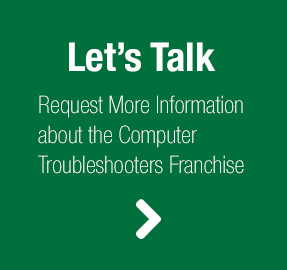 Computer Troubleshooters franchise owners begin their journey with a comprehensive two-day training program followed by an optional 2 day workshop experience. This is followed by an eight-week coaching program to continue their momentum into business ownership.
Initial On-Site Training Program:
The initial training program will be hosted at venue in Galway.  Training will provide the new franchise owner with tools and resources to be successful. The program spends time detailing the service offerings, programs, and discounts with industry leading vendors, and reviews how to interact with and utilise the resources available at your fingertips through our Franchise Intranet.  In addition, we dedicate a whole day to mapping out your initial sales and marketing strategy. We help you incorporate sales and marketing programs, such as email marketing, a blog series, social media resources, our webinar program, and networking resources, into your new business, combined with the knowledge and methods other franchise owners have found to be successful.
Please also visit our New Owner Training Schedule.
8-Week Coaching Program:
The 8-week coaching program will provide you with a customised blueprint to continue the momentum established during the on-site New Owner Training.  As a new owner you are provided access to a dedicated franchise owner that has extensive experience in working with new owners to build their business.  This coach will ensure the proper steps are being taken to move the your new business forward,  guaranteeing your business is off to the best start possible.
Continuing Education:
The IT Services Industry is ever changing – new services, products, and vendors emerge daily.  We work diligently to provide you the opportunity to take advantage of these new resources to help maximise revenue potential.  We host several live and online training sessions annually so you can understand and learn how to incorporate these new product lines into your business.  Additionally, marketing programs are introduced with training materials and events to make sure you are able to take advantage of the initiatives that will help make you successful. The most valuable training you can be part of is the interaction and knowledge exchange from the World-Wide Network Computer Troubleshooters franchise owners.  We are a partner in your business, and want you to be successful!